"Pu-erh tea that has been preserved for few years is close to green tea in its properties and colour. Its taste is sweet tinged with a little bitterness. Its fragrance is pure and mild and lingers even after the tea is finished. While brewing raw tea, lower the water temperature. Serve immediately after pouring to avoid scorching the leaves and tainting the tea liquid with that smell."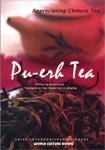 Source Book: Wang, Jidong.
Pu-erh Tea: Appreciating Chinese Tea.
China Intercontinental Press. p. 158. ISBN: 9787508517438. [q164] [s37]
Quotes Tags: Pu-erh