0 reviews
[383 A]
2512x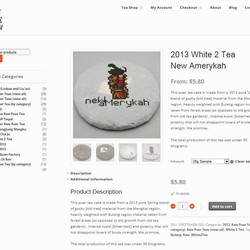 Web: http://www.white2tea.com/
Description:
The White 2 Tea Company was created by passionate puer devotees.
We conduct business with a simple philosophy: If we would not drink it, we will not sell it.
Our approach to sales is minimalist.
No flowery descriptions of flavors. No fairytale stories about monks and tea masters. No bullshit.
We provide the tea. The experience is up to you.
We are based in China's capital, Beijing.