0 reviews
[205 A]
3083x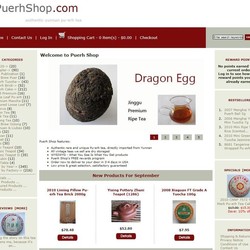 Description:
Welcome to Puerh Shop, your source for authentic Yunnan Pu-erh tea shipped directly from our warehouse in Troy, Michigan, USA.

Read about our guarantee here.
• We import directly from respected producers in Yunnan and ship to you directly from our warehouse in Troy, Michigan.
• By dealing directly with the producers, we are able to keep our prices very reasonable. Shop around and compare!
• We buy only from tea factories that are ecologically friendly.
• We do not blend tea from multiple sources.
• Pu-erh Shop's Pu-erh tea is the high grade tea — much higher grade than ordinary tea you can buy at a grocery store.
• We use PayPal and Google Checkout to process payments. It's secure and fast, and now you can pay by credit card without opening a PayPal account. PayPal is an eBay company.
• We promise fast shipping via Fedex, UPS and USPS. Your tea will be shiped within 24 hours of receipt of your order.

Our Mission:

It's simple. Our selected products will be of better quality. Our prices will be the lowest in the industry. Our shipping will be faster than any of our competitors. Our Secret:

We keep our overhead low so you are only paying for the product. We only sell our items online via our online store. No retail store overhead here. You won't find fancy boxes or fancy packing materials. There are no 800 numbers to call. No advertising other than word of mouth. We have found that every penny we spend on "stuff" translates to higher prices for you the consumer so we cut out all the "stuff" and just concentrate on selling low mark up high quality products directly to you.