"It is essential to forget feelings and conscious perceptions to gradually return to the Way. Perceptions are seeds of birth and death; if you keep consciousness of perceptions in mind, then you will conceive feelings about objects. If there are no objects inside you, then how can outward objects occur? If outward objects do not occur, inner objects do not emerge; so inside and outside are peaceful and quiet.
When mind kills objects, you are a wizard. When objects kill mind, you are a mortal. "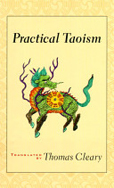 Source Book: Cleary, Thomas.
Practical Taoism.
Shambhala Publications Inc, 1998. p. 112. ISBN: 978-1570622007. [q713] [s79]
Quotes Tags: Tao