"If you are annoyed or excited on account of things, sickness is already stirring in your mind – so what is "peace of mind"?

Pokud jste rozzlobení nebo rozrušení na základě věcí, nemoc se již rozdmýchává ve vaší mysli – kde je pak "klid mysli"?"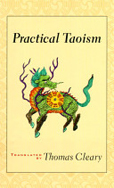 Source Book: Cleary, Thomas.
Practical Taoism.
Shambhala Publications Inc, 1998. p. 112. ISBN: 978-1570622007. [q706] [s79]
Quotes Tags: Tao